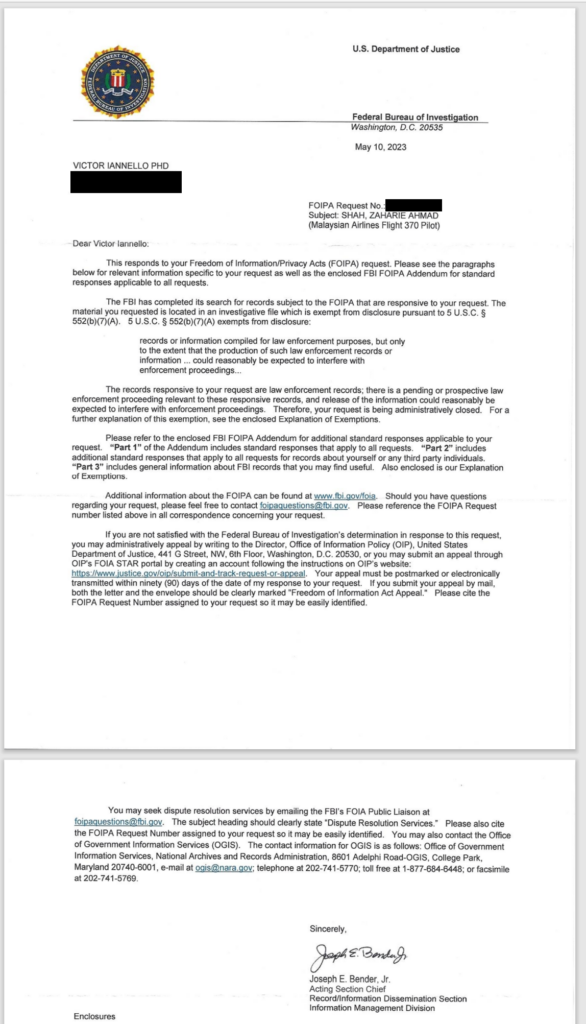 I recently submitted a FOIA request to the FBI for all documents related to MH370, which disappeared more than nine years ago. This week, the FBI responded that the request was denied due to "a pending or prospective law enforcement proceeding relevant to these responsive records, and release of the information could reasonably be expected to interfere with enforcement proceedings". This is identical to the response I received two years ago, and two years before that, after I submitted similar requests. It implies the US intelligence community has relevant material that it will not release due to an open criminal investigation.
Although I requested "All information pertaining to Malaysia Air MH370, including but not limited to information pertaining to Captain Zaharie Shah", the subject of the FBI's response only referenced Captain Zaharie Shah. This could mean that only the captain is under investigation by the FBI.
In 1971, an unidentified individual that referred to himself as Dan Cooper, who later mistakenly became known as D.B. Cooper, hijacked a Northwest Airlines flight between Portland, OR, and Seattle, WA, and parachuted from the Boeing 727. That FBI investigation remained open for 45 years. With that perspective, it is possible that the facts uncovered in the FBI investigation of Captain Zaharie Shah will be unavailable to the public for a long time.